EVENT
Wood top making experience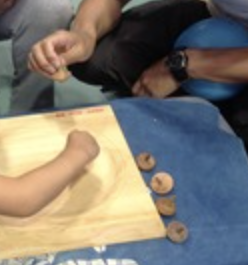 Make cute tops with a special woodworking machine you don't usually use.
Of course, the wood is from a Yanbaru tree.
Osamu from Osamu Kobo, one of the best wood craftsmen in the prefecture, will help make the top.
<About Osamu Kobo>
Osamu Kaneshiro
Born in 1957 in Koza, Kaneshiro opened the Ogimi Kobo in Kijoka, Ogimi, In 1987, and is a woodwork craftsman representing Okinawa Prefecture. He is particular about Yambaru wood and makes various household vessels.
He received the "Oki Exhibition Award," the highest award in the craft category, at the 67th "Okiden Exhibition" in 2015.
Date and time: Sunday, December 26, 1st 13: 00-14: 00 / 2nd 15: 00-16: 00
Venue: Ogimi Village, former Shioya Elementary School
Number of people: First 10 people each time *No reservation necessary
Time required: About 10 minutes per person
Cost: 550 yen per person (tax included)
*This experience session is for elementary school students.